There are very few apps that I use on a day-to-day basis that I can firmly say are indispensable. As someone who relies on public transportation, being able to get accurate and timely information about what bus or train to take is really important to me. I never much cared for the transit information that was previously part of the Google powered maps app that shipped with iOS 5 and earlier. After iOS 6 was released and Apple's own maps solution had bus routes yanked, I had no other option but to use the horrible mobile website that Translink (Vancouver's transit company) provides (they once made a native iOS app, but it was horrible and was quickly abandoned).
Thankfully, not long after iOS 6 was released, a beautiful native iOS app made its way to the App Store called The Transit App, by Samuel Vermette. Its purpose was to fill the gap left by Apple's maps app and provide transit data to people in a carefully thought out and designed experience. I've been happily using this since last year, and whilst it has received many incremental updates since then–mostly performance and bug related–a substantial 2.0 update launched this week.
The new update makes life even better for transit riders. I've used it to route trips on many occasions, and it hasn't failed me yet. In addition to the accurate real-time data previously provided (in my city, its been spot on), a slew of other usability enhancements have gone in to make the experience even better.
Real-time vehicle locations where available.
New Transit Modes settings let you disable particular modes within a transit agency.
Autocomplete suggestions now include recent locations.
New sorting order in Nearby mode taking into account departure time, mode (subway vs bus), distance and favourites.
Improved schedule popover (long tap on right side of nearby routes cell).
Offset your location from any stop on an itinerary path.
Tons of bug fixes and performance improvements.
There are some subtle things in the UI that I'm enjoying in the latest update, such as tapping on the area where it display how much time is left until the next bus. What you get is a little pop-over preview of the upcoming bus schedules (screenshot below).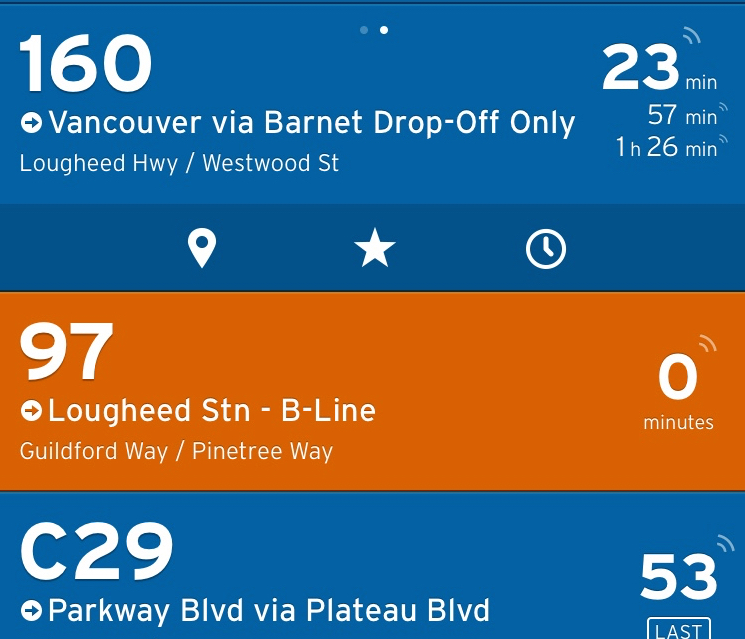 In the in-app settings, you'll find a new feature called "City Bundles." With the included supported cities, you can download offline transit data for any of them. I've already downloaded a few for the cities in the US that I frequent. I haven't tested it yet, but I will be in the coming months and look forward to uncovering my findings. I'll report back on how that goes when I have some hands on experience with it.
You should also find your supported transit modes in settings. For the city of Vancouver, you can see in the screenshot below it properly shows SkyTrain, West Coast Express, SeaBus, and Bus–all of the available public transportation options I can take advantage of in this city.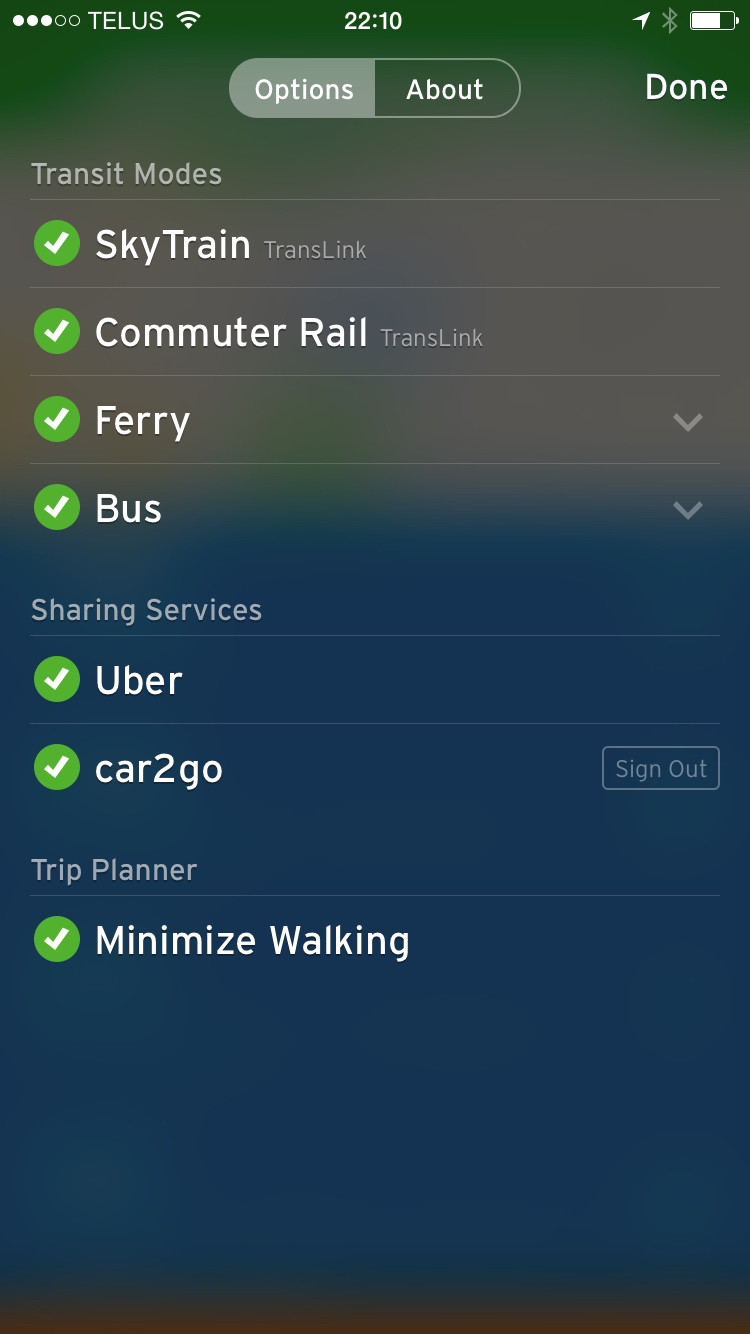 One would think a transit company would want to offer the best possible experience to their customers who wish to use their services. I postulate that big companies like that can't innovate because they're stifled by bureaucracy. They can't have the level of focus and drive to build great native apps (on any platform) like a small team of designers and developers could. It's evident to me when I use their websites, which are already horribly designed and architected, that a good user experience is simply an afterthought.
Previously The Transit App was free, with an optional yearly subscription you could pay for (if which I happily signed up for). For those with light wallets, you can now find it in the App Store completely free. I can't recommend the app enough–it's exquisitely designed and is tremendously useful. Go grab it today.