If you're putting cream and sugar in your coffee, not only are you doing it wrong, what you're drinking is not coffee. I'll elucidate on why this is the case in a moment.
Vancouver is known for many things–its delicious and diverse array of foods from a virtual cornucopia of cultures, gorgeous sea-side cycling and walking via the Stanley Park Seawall, a happening nightlife on Granville Street, and a Starbucks on what seems like every other city block. After landing at YVR, head to the hotel, drop your luggage off, and just this once, resist the urge to indulge in a high-calorie coffee-based beverage. That's right, I said coffee based beverage because as I proclaimed in my opening statement, adding sugar and cream to coffee is simply not coffee.
An overwhelming majority of people on a day-to-day basis, right now, are drinking sub-standard coffee. If it's not Starbucks, it will be Tim Hortons, Dunkin' Donuts, or the off the shelf store variety. To be fair to Starbucks, before they came along, we didn't have better options available. Starbucks did a good thing by raising the quality bar for mass consumption of coffee on a global scale.
In a post-Starbucks world, you have so many more options and can do much better, so let's get straight to it. If you're buying beans from a grocery store, there's a high probability that you're buying low-grade beans that have been sitting on the shelf for far too long. The issue with the beans at your local grocer is twofold: They don't provide a roasting date and are likely have been festering on a shelf for more than three months. Why are roasting dates so important? They're important because you want to ensure absolute freshness. The beans I purchase have typically been roasted within 2-3 days prior to landing in my hands. As most beans don't have a roasting date, you can ballpark the freshness by checking the expiration date.
Until you experience freshly roasted coffee, you haven't experienced what real coffee tastes like. Contrary to popular opinion, coffee doesn't have to taste bitter with a burnt aftertaste. To get a taste of perfect, you need to make your way to Revolver Coffee, located at 325 CAMBIE ST, between Hastings and Cordova. It's just a hop and a skip from Gas Town.
Revolver is a cafe with a rustic vibe. There are two seating areas, the secondary called "Archive" which has a large spacious communal table and features a showcase of various coffee brewing paraphernalia to satisfy any coffee nerd. All of their coffee is imported from a variety of coffee roasters–mostly from North America, but some from overseas. They're all freshly roasted within a few days of landing on their shelves. If you don't know much about coffee, I encourage you to ask your barista for their signature "Brew Flight," which is one coffee brewed via three different methods (French Press, AeroPress, and Clever). Make sure to grab a pastry as well, since they're baked fresh and brought daily from their sister bakery, Crema in North Vancouver.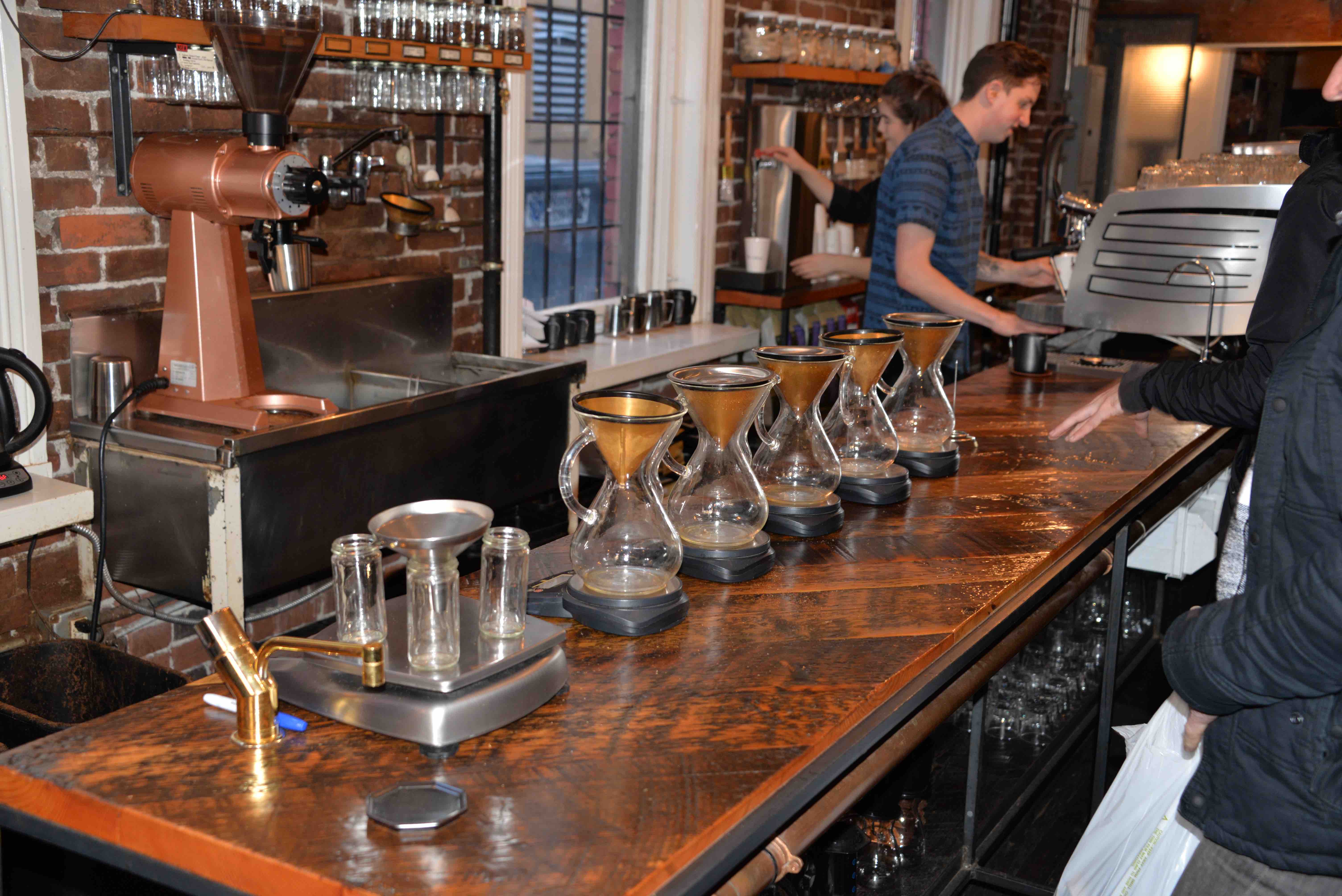 All of their coffees are very lightly roasted, which surface the natural flavours of the coffee cherry. On the first sip, flavours of stone fruit such a plum, cherry, or peach may touch your palate–others of chocolate; these are flavours that are missing from low-grade coffees. Revolver sets themselves apart from other cafes by opting to not serve coffee from drip coffee machines. Your choices are something from the pour over bar or something from the espresso bar. This is intentional because one of the greatest things that work against our best interest is the drip coffee machine. Invented to solve the ever growing problem of getting coffee into our mouths in the least amount of time possible, the drip coffee maker produces one of the most bitter and flavourless cups of coffee. And therein lies the problem: drip is what we've acclimated to.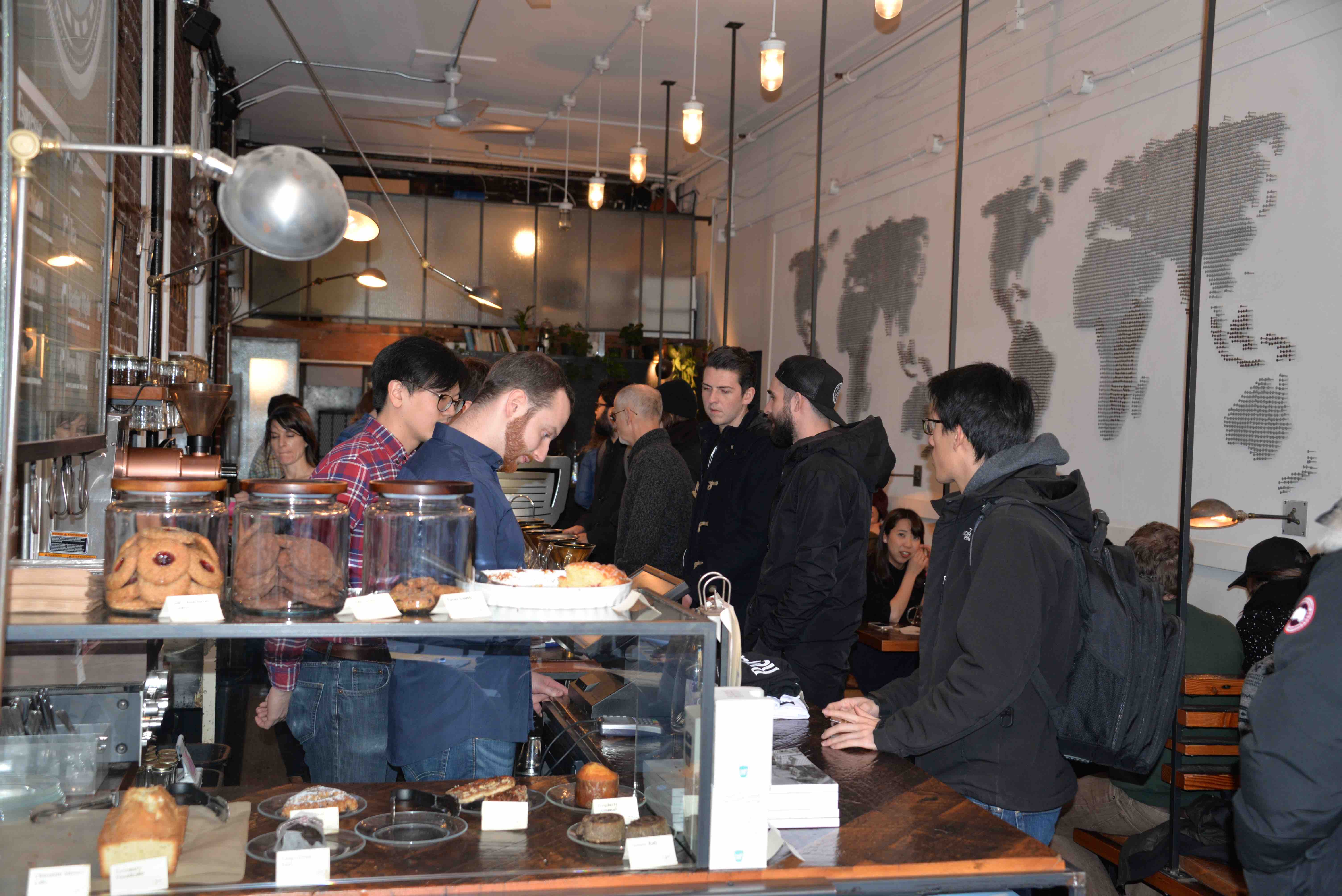 Pour over is the most popular brewing method for the main reason that it produces a very smooth cup of coffee with the least amount of acidity–both characteristics that you want in a cup. You'll find Revolver's staff, including co-owner George Giannakos, extremely knowledgeable and friendly. I learned almost all of what I know about coffee sourcing, roasting, and brewing from him.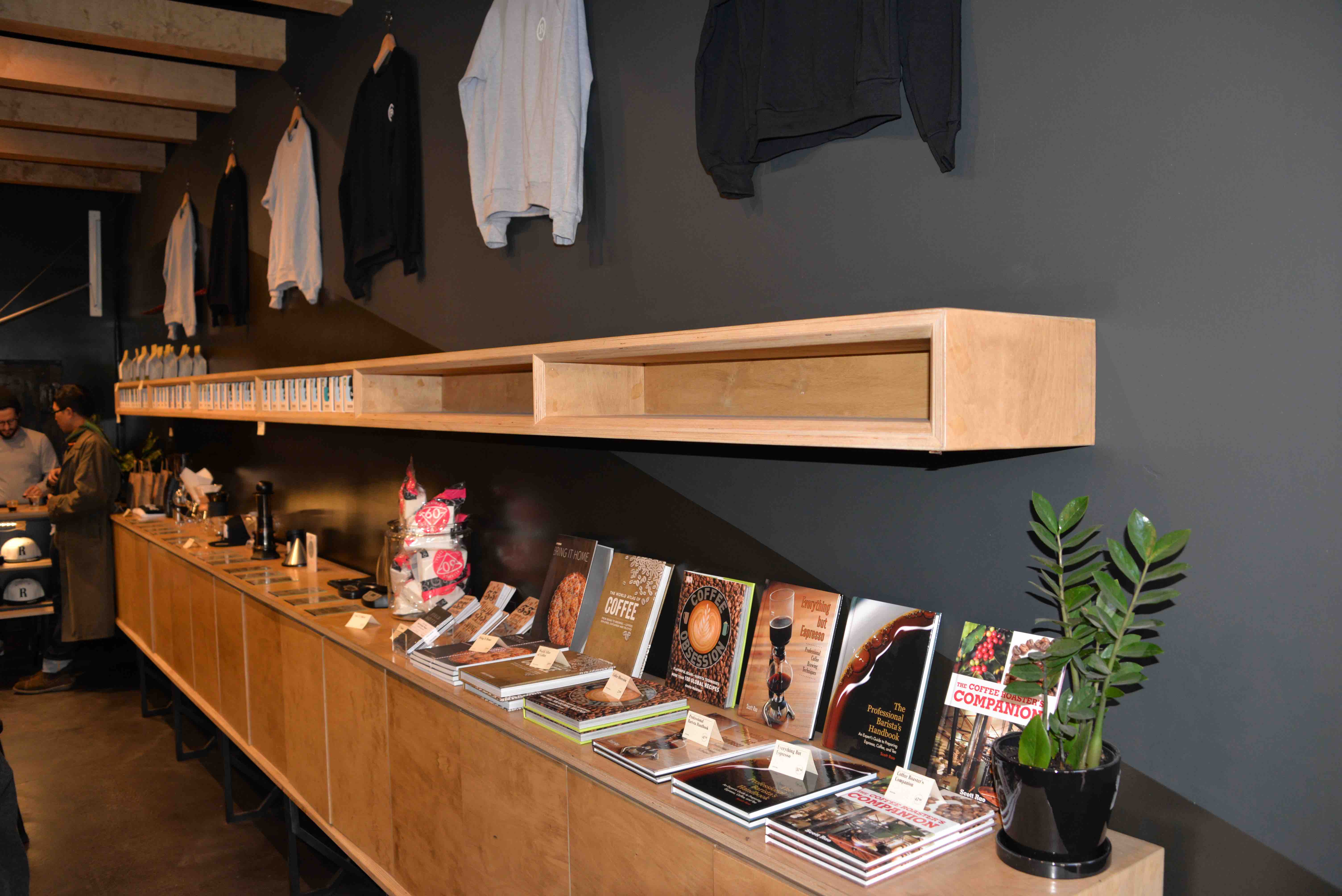 Coda
You're sure to leave Revolver and our lovely city armed with more knowledge than you've ever had about coffee, a pleasant aftertaste on your taste buds, and a spring in your step from the incredible experience that few cafes are capable of offering, in Vancouver or otherwise. Traveling can be a lonely thing if you do it often by yourself, but at least the next time you're in Vancouver, you'll be surrounded by good company and will be able to warm your heart with something that's truly delicious.
This article first appeared on sellingtravel.net.